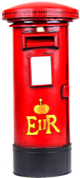 Contact Us!..Every site should have one..
Ok, this is for when you got lost at sea navigating our site. The page that everyone thinks
is an absolute must as a lifeline when you've read so much about the band, you really just
want to contact them for your special occasion. So fill yer boots...here we are!
Below: Inside The Nots Private Living area, where they all sleep and make music.
Wanna Send us a Quick e-mail?
Click on the Postie box!
Click the logo to go to our Facebook page
Chris
Malkinson
Keyboards and Bass
Welcome to NOT's Landing Page
Tom Walker
Guitar and Vocals
Ralph Ginger
Millington
Drums
and
Vocals
To email us click the pillar box!