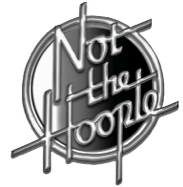 Live Video - The Bigger Not The Hoople!
Why It's Hot To Be NOT!
Here's what we look and sound like when we've got a head of steam on, and more of us! This is put here, so when we turn up at to your function, wedding reception party, big event, product launch, wake, club, pub or Ann Summers 'demonstration of the rabbit' evening (we always create a real vibe there...) You'll know it's us you've booked. We have a great name, but an occasional identity crisis...so to clarify: Above is who we are, but this is the 4 or 5 piece powerhouse version! If you're confused by these different options of 3's, 4's or 5 piece versions of the band, or want to know why we chose such a confusing name or would just like more information on how we can make your function etc...(see above) go with a bang,
call us on: 01582 842916 or 07973 174318 or make it easy on yourself, and email us HERE
You might need a bigger sound for a bigger pound right? Luckily, if you love Not The Hoople and you'd like a bigger slice of them, we can now offer you a 4 or even 5 piece version! You already know how big a sound the band can get as a power driven 3 piece group...well wait till you hear the souped up version. Down below, you'll get some idea of what they can do !
although, to be honest, the sound trying to burst out of your computer speakers can't possibly do justice to the might of
the 4 or 5 piece playing live...the obvious thing to do is to hire a big bash for your next birthday, and give em a try.!